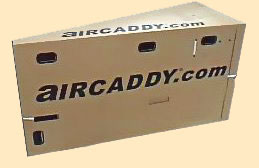 Download our AIRCADDY assembly instructions.
The K-9100 Compact AIRCADDY container is a safe, easy way to ship your bicycle. Using this patented system requires very little knowledge of bicycle mechanics; simply lower or remove the seat, rotate the handlebars back, and remove the front wheel. All of your bicycle's precise derailleur and brake adjustments are unaffected, and your pedals are not removed. Even triathlon-bars fit neatly in the front section of the AIRCADDY.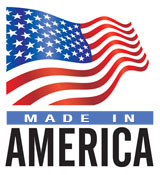 The unique, triangular design of the AIRCADDY is remarkably strong; in laboratory testing it exceeded 3,500 lbs of downward peak force. The AIRCADDY is designed to be used for 6 to 8 trips. When the outer shell is worn out, the original owner may purchase a K9100 replacement shell at a reduced price (with proof of purchase). The mounting system is guaranteed for the lifetime of the original owner.
Product Spec
K-9100 Compact AIRCADDY containers are 58″ in length, 22″ in width, and 31″ in height; the total size is 164 inches and weight 21 lbs. Maximum weight of the packed AIRCADDY is 60 lbs. This container conforms to FedEx Ground® shipping standards, as well as all 2008 ATA, TSA and FAA size and security regulations for the transportation of bicycles by airplane.
Patents: USA 6,039,243 and 5,520,280; United Kingdom GB 2345691; other world patents pending. More details at: www.aircaddy.com