What's a XL Bikebox
™

shipper?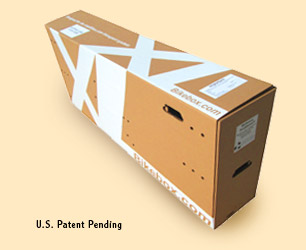 Go to our XL Bikebox Shipper assembly instructions page.
The XL Bikebox.com is the perfect solution for shipping tandems, recumbent and all large mountain bikes with 26 inch or 29 inch wheels.
The container is constructed of high quality double double-wall corrugate and has two steel support mounts. Unlike hard plastic cases, the XL Bikebox.com does not transfer shock to the bicycle, but absorbs the impacts, preventing damage to carbon fiber and alloy components. To pack the bicycle, the following components must be removed: Tandems both wheels and front handlebars, for mountain bicycles only the rear wheel must be removed.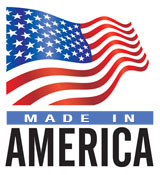 The XL Bikebox.com meets all ground and air shipping requirements for UPS and FedEx (which is 72 x 14 x 32 inches or 164 dimensional inches). Recommended total shipping weight is 100 pounds. Made in USA. Guaranteed for one year on shell, lifetime on metal mounts.
XL Bikebox Shipper

™

model 3692-00 Warranty
Arietar Ltd. will repair or replace any original equipment parts it determines to be defective for one year of the original owner. Note: the cardboard box is designed for 4-8 trips, and is not covered in this warranty. This warranty applies only to the original owner and is nontransferable. Arietar Ltd. cannot be responsible for failures due to improper assembly, modification of parts or instructions, neglect, abuse, accident, and/or normal wear. The warranty does not cover any shipping container used for rental use, nor does it cover the cost of repair or replacement for any equipment other than the eWheel Shipper container. Arietar Ltd. neither assumes nor authorizes any person to assume any other liabilities in connection with eWheel Shipper containers, and there are no oral agreements or warranties collateral to or affecting this agreement. Any implied warranty of merchantability or fitness for a particular purpose is limited in duration to the duration of this warranty. 03/05/12.
Model 3692-00 size(72x14x32 in. or 183x36x81cm.) weight 35lbs. or 16kg. Meets all international standards for airplane and ground shipping for Fedex, DHL, UPS.